Dry Cleaning Services
Dry cleaning services are an important part of keeping your garments in their best condition throughout the years. From expensive collared shirts, to sports coats, to formal dresses and beyond, some items can only be cleaned through commercial dry cleaning. Whatever the need, Barry's Cleaners & Launderers is here to make sure your clothing gets the attention it deserves.
Our top-notch dry cleaners carefully inspect each garment before the cleaning begins. Stains are individually treated by hand, buttons are inspected and garments get sorted based on the best cleaning practices. Nothing goes overlooked, so the results are everything you expect them to be when you put your trust in Connecticut's leading dry cleaner.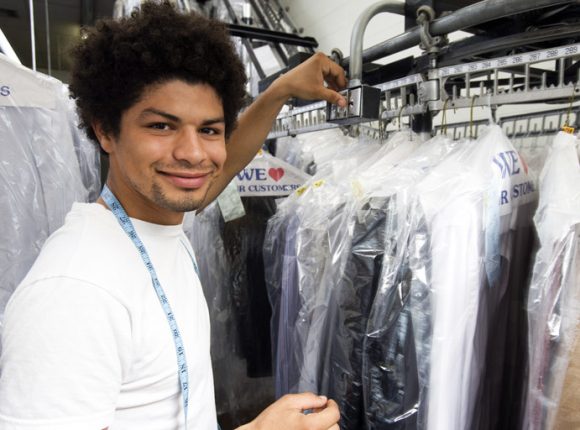 Types of Garments we Dry Clean
Our dry cleaning services are highly customizable, which means we can adapt the process to any garment or article you bring us. From general cleaning, to special spot treatment, to specialized care for delicate materials, we do it all. Some of the many types of garments we dry clean include:
Business wear and formal attire
Suits, dresses, jackets and vests
Delicate materials like leather and suede
Miscellaneous items like wraps and shawls
Uniforms and Commercial Dry Cleaning
Need a commercial dry cleaning partner to handle uniform cleaning for your company? We've partnered with healthcare facilities, retail establishments, corporate offices, restaurants and more to provide laundering and dry cleaning services for a full assortment of garments. We make sure every uniform and article of apparel comes back to you crisp, clean and feeling like new.
Refresh Your Attire with Dry Cleaning Services
There's only one name for dry cleaning in Connecticut: Barry's Cleaners & Launderers. From formalwear and business attire to uniforms and beyond, we provide dry cleaning services that are always tailored to the garment. Contact us today at 860-447-8220 for more information or to learn more about our approach to dry cleaning.